We are a proven, reliable partner and innovator.
Our operation's team is there for you in nearly every facet of the distribution chain, 24/7. Skyview supports your national and local programming with cutting-edge technology, software and reliable service. Our team has successfully supported hundreds of franchises and syndicators, driving results and confidence for our partners coast-to-coast.
See how our technology can serve you.
Inventory Management Solutions

Inventory Management for
Play-by-Play Broadcast
AdView software returns control of advertiser scheduling back to a franchise's front office where it belongs. It ensures correct advertiser clearance, tracks inventory sellout, and provides real-time access from any device. Generate Affidavits of Performance and Invoices in minutes, not months, and with greater detail than ever before.
Play-By-Play Inventory Management
Advertisers automatically loaded into the flagship station's player
All game scenarios ready to play at a mouse click (Pregame, In-Game, Rain Delay, Post-Game, etc.)
Timers track break length for rejoins
Detailed inventory and revenue reports
Real-time logs and reports from anywhere an internet connection is available
AdView Live Read Logger
With AdView, live reads are managed like a standard commercial unit. It provides control over scheduling live reads for an entire season, associates a dollar value to each read, and tracks average unit rate. The traffic department manages copy, flights each read, and creates advanced rotations of reads.
All instructions are updated to the traveling engineer/announcer at any ballpark or arena. The reads can be logged instantly from the broadcast booth or by Skyview at the Skyview studios. Live reads are now part of the affidavit process, generated with recorded commercial units.

Inventory Management
for Multi-Media
AdView goes beyond the play-by-play broadcast to manage all forms of inventory in one panoramic system. Skyview customizes AdView to match your exact inventory specifications, making scheduling efficient and custom.
Customized for all franchise inventory:
Radio and Television
Print
Signage, Static & Digital
Web
Promotions
Invoice all types of inventory from this one inclusive system.

SkyCap Promotion Capture System
SkyCap captures and catalogues venue fan experiences and advertising in one consolidated system. SkyCap auto-records high definition video from multiple camera angles to log all sponsor elements in a game. These videos are clipped, labeled and available for download the next morning. Clips are searchable and include a date and time stamp. SkyCap archives footage for the entire season.
Why should you have SkyCap?
Enhance your social media presence: share with fans their game experience for download and social media sharing.
Provide in-game proof-of-performance to verify contract fulfillment for advertisers. Also showcase the power of in-stadium advertising and fan interaction to prospective advertisers.
Capture and Catalogue by Advertiser and Promotion:
Scoreboard Videos
Venue Static Signage
On Field Promotions
Fan/Sponsor Interaction (ex. Kiss Cam, Smile Cam, Dance Cam)
Features:
High Definition video capture
Custom installation, simple, easy, and scalable
Integrates with your existing LED signage scheduling software
All video is auto-clipped for searchable review
Uses off-hour bandwidth for video transfer
Adjust camera image remotely
Broadcast Distribution Solutions

Broadcast Distribution
via Satellite or Internet
Skyview provides broadcast distribution solutions delivered via satellite or Internet for major league sports, broadcast networks and syndicators. Skyview offers clients of varying scale next-generation distribution platform options to meet their needs.
Satellite distribution of the radio broadcast:
Full digital quality
State-of-the-art equipment provided
Installation and maintenance of equipment
AdView for franchise to flagship inventory management and regionalization
Full production and hosting of the flagship broadcast
24/7 technical assistance
Full network automation

Full Network Automation
FAST (Flexible Audio Storage Technology) Web Automation is saving radio stations thousands of dollars each season and eliminating the need to hire and train board operators. All schedule and format information is automatically updated through the satellite, easing the program director's workload.
Expand your brand by providing this affordable option to remove a station's barrier to entry to join the network.

Streaming Audio & Video Appliance
AdLink is a streaming audio and video appliance that is an affordable alternative for content distribution.  AdLink is designed to integrate with Skyview's AdView Inventory Management, which provides all the features of satellite delivered programming, including store and forward and commercial regionalization technology. This allows existing satellite receiver-based networks to expand into additional and smaller markets or allow networks with older technology to transition to Internet based distribution, eliminating the costly investment in satellite-based receivers.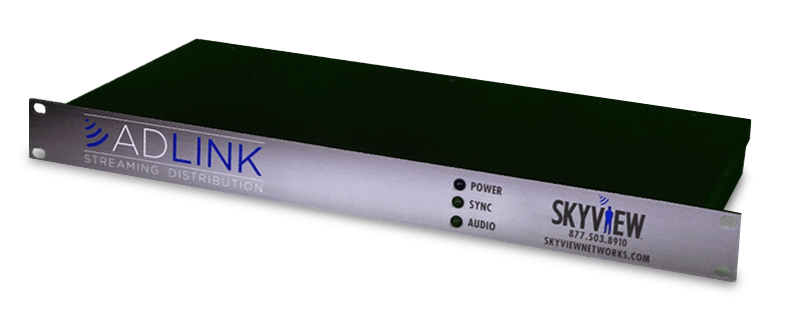 AdLink Features:
Four stereo audio outputs, two stereo audio inputs, one video output
Store and forward capacity internal:

360 hours audio, 12 hours video
Unlimited storage using external USB drive

On-air automation control
Dual NICs for internet redundancy
Emulates functionality of a satellite receiver, sub $800

Turnkey Syndication Services
Skyview provides content networks and syndicators turnkey solutions to manage all broadcast needs, from production, to inventory management, to distribution. With over 30 years' experience and the top industry equipment, Skyview provides the expertise and reliability required to fully manage broadcast.
Features:
Full broadcast production and state-of-the-art production studios/editing facilities
Digital audio processing for superior broadcast quality
Complete integration with Skyview's AdView Inventory Management system and distribution service
Next-Generation receivers featuring:

Regionalization
Store Forward (Time Shift)

Audio and video studios with green screen technology
Professional broadcast staff and technical support on-site 24/7