Skyview Networks to serve as SnoCountry's exclusive advertising sales partner for the 2023 winter season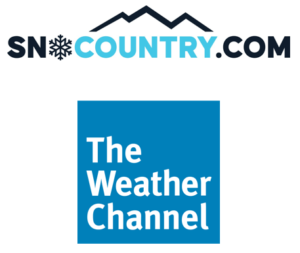 (January 23, 2023) – The Weather Channel and Skyview Networks announced today the expansion of their partnership with the inclusion of SnoCountry Ski Reports on over 400 radio stations across the country. With this expansion, The Weather Channel and SnoCountry will utilize Skyview Networks' network audio sales platforms and regionalization capabilities to provide winter ski reports to unique geographic audiences, giving listeners valuable ski resort conditions through the winter season.
"The Weather Channel is thrilled to expand our partnership with Skyview Networks and join with SnoCountry to offer listeners the latest ski conditions across the US," said Scott Lawrimore, General Manager of The Weather Channel radio network. "The Weather Channel and SnoCountry will provide listeners with trusted forecasts and up-to-date weather information so that they can be prepared and know what to expect when they hit the slopes!"
Through this multifaceted partnership, SnoCountry Ski Reports will feature localized content throughout specific geographic regions in the US, providing listeners with timely winter conditions and weather reports. This strategic integration paired with Skyview Networks' innovative approach to network audio sales, specifically with regionalized programming, offers SnoCountry with the tools and platforms they need to generate important listenership in the winter months.
"This expansion with SnoCountry and The Weather Channel presents a dynamic opportunity for our ad partners, allowing them exclusive access to a highly-attractive, niche consumer at this time of year," stated Jeanne-Marie Condo, President of Network Partnerships and Chief Revenue Officer of Skyview Networks. "Skyview Networks' industry leadership is showcased in our ability to drive results for advertisers with specialized content, and with radio slated to reach 80% of people planning to take a ski vacation in the next 12 months, this is a winning approach to delivering that audience."
"We're excited to be partnering with a group that matches our passion for skiing and riding," said Mike Colbourn, President of SnoCountry. "With The Weather Channel co-branding and Skyview Networks' proven network audio sales, we are looking forward to a successful season this year and for many seasons to come."
For more information on SnoCountry, visit snocountry.com. Additional information on Skyview Networks' audio, technology and syndication solutions is available at skyviewnetworks.com.
About SnoCountry
For more than 50 years, SnoCountry has worked with every ski resort in North America and thousands of media outlets to continuously serve up snow condition information skiers and riders are hungry for – where the snow is falling, how fast it's adding up and what it feels like. You see, it really is all about the snow. Our Mission is simple:  SnoCountry is the leading source of current, credible and unbiased ski and mountain resort information to promote the experience. SnoCountry also offers regional and national ski industry radio and television campaigns geared to activating first-time skiers and riders, motivating casual visitors and updating dedicated skiers and riders with the latest information to better enjoy the on-snow experience.
About The Weather Channel
Since its launch 40 years ago, The Weather Channel television network has become the top-rated and most widely distributed weather network in America. The Weather Channel television network has been the leader in severe weather coverage, providing the most comprehensive analysis of any media outlet and serving as the nation's only 24-hour source of national storm coverage. With trusted meteorologists who analyze, forecast and report the weather, its expertise is unrivaled. In 2021 and 2019, The Weather Channel won Emmy Awards for its innovative Immersive Mixed Reality technology which is changing the standard in weather presentation. The Weather Channel CTV app is available on Amazon Fire TV and Android TV and will be coming soon to Roku, Samsung Smart TV, Vizio, and Xfinity Flex. For more information visit: www.weathergroup.com.
About Skyview Networks
Skyview Networks is an audio technology, syndication and network audio sales solutions company based in Scottsdale, Arizona that has been serving the broadcast space for more than 25 years. With more than 10,000 radio affiliate relationships, its nationwide coverage reaches over half of all Americans each week. Skyview's industry-leading services are utilized by major media companies, leading consumer brands, world-class entertainers, professional and collegiate sports organizations, and state news networks. For more information, visit skyviewnetworks.com and follow @SkyviewNetworks. 
###