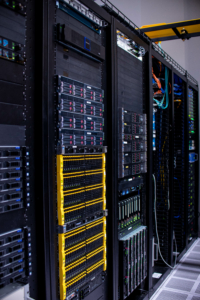 This fall, Skyview Networks debuted its industry-leading satellite uplink facility and private cloud server system that makes the broadcast solutions company one of the most reliable in the nation. As the primary distributor and inventory management provider for ABC Audio, CBS Audio, Local Radio Networks (LRN), Alpha Media and 100+ professional and collegiate sports organizations, this data center makes Skyview Networks capable of quadrupling its client portfolio.
Ken Thiele, CEO of Skyview Networks stated, "This facility is a statement, not only to our current partners about our dedication to the highest level of reliability, but also to other networks that we have the capacity and flexibility to grow."
We are proud of the dedication and commitment of our Information Technology, Software, and Engineering teams to making Skyview Networks' reliability to its clients the best in the industry. The advances they continue to bring forth have helped lead to the growth and capabilities Skyview continues to experience.
The full article is available at radioworld.com.