August 10, 2018
—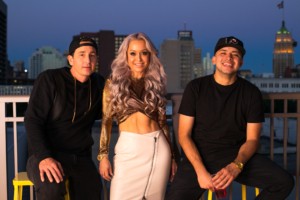 PHOENIX, Ariz. (August 10, 2018) – 
ABC Radio and Skyview Networks announce syndication of
The Dana Cortez Show
, a fresh, new approach to entertainment programming for CHR, Rhythmic and Hip Hop music formats.
The Dana Cortez Show
features an ensemble cast led by one of radio's rising stars and one of the first Latinas to host a nationally syndicated show.  The collaboration is the first result of ABC Radio's and Skyview Networks' joint syndication and sales initiative announced April 2018.
"Partnering with ABC Radio and Skyview Networks is the realization of a lifelong dream," said Cortez. "From day one, Steve Jones and his team have championed having a female host as the lead for their morning syndication.  It sends a very powerful message and I'm excited to help pave the way.  Today's audience expects authenticity, there are no secrets between us and nothing is off limits. Every morning is brimming with culture and content.   Originality is at the core of everything we do! We believe our show is radio reimagined. It's not what we do, it's how we do it."
The Dana Cortez Show has consistently achieved #1 ranking in-demo in each local market it has performed, most recently in San Antonio and previously in Albuquerque.  The show is powered by one of radio's most dynamic casts including Cortez; DJ Automatic, her executive producer and husband; and comedian Anthony Almanzar, their best friend. For five hours every day the show delivers fresh, relatable content where real life is played out on the radio.
"Dana is a transformational talent whose voice connects with a very broad audience and women in particular," said Steve Jones, Vice President and General Manager of ABC Radio. "We are extremely proud to syndicate The Dana Cortez Show and help Dana, DJ Automatic and Anthony A. entertain more listeners and drive affiliate revenue."
"When we started this collaboration with ABC Radio, The Dana Cortez Show is exactly the type of gold we were hoping to find, programs and personality with momentum, on the rise," said Ken Thiele, President Skyview Networks.  "Congratulations to the show and we welcome them to the family."
"When you spend time with Dana, DJ Automatic and Anthony, they just exude pop culture.  The show delivers a key demographic, millennials; it's an area where we plan on excelling for our agencies this upfront season," said Jeanne-Marie Condo, Executive Vice President & General Manager, Skyview Networks.  "Custom integrations are very important to our agencies and their clients and The Dana Cortez Show adds another dynamic layer of experiences we bring to the table."
For affiliation information, contact Heidi Oringer 212.456.5541 or [email protected].
About ABC Radio
ABC Radio syndicates America's largest commercial radio news network, ABC News Radio, along with the ABC Radio Lifestyle and Entertainment network and ABC Radio Digital to over 1650 radio stations and multiple digital distributors. ABC Radio reaches more than 76-million listeners each week across broadcast and digital audio platforms. ABC Radio is part of the Disney ABC Television Group.  For more information: www.abcradio.com.
About Skyview Networks
Skyview Networks is a broadcast technology and national network sales solutions company that provides services to ABC Radio, CBS News Radio, Local Radio Networks, professional and collegiate sports organizations and two state news networks. Founded in 1995, Skyview is based in Scottsdale, Arizona and focuses on providing best-in-class services that include satellite distribution, full network automation, inventory management systems and network audio sales. For more information, visit skyviewnetworks.com.
###