Trojan Football and Men's Basketball now available to affiliates nationwide on Skyview Networks' quick-to-scale distribution platform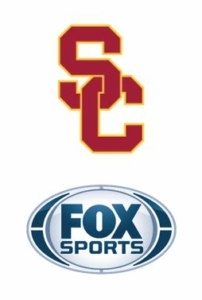 PHOENIX, Ariz. (August 27, 2019) –
Fox Sports announced today a partnership with Skyview Networks, a leader in the play-by-play distribution space, for University of Southern California's (USC) football and men's basketball broadcasts beginning this season.  After partnering with southern California flagship station, KABC 790 AM, Fox Sports is working to increase the Trojans' broadcast footprint beyond the West Coast.  With Skyview Networks' 1,600+ smart digital receivers active across the country, Fox Sports can approach new affiliates with best-in-class satellite delivery systems.
"We are excited to enhance the Trojans Radio Network by partnering with Skyview Networks.  Skyview will help USC improve the broadcast quality for network affiliates by offering a new level of technology for distribution," said Drew DeHart, Vice President/General Manager of USC Sports Properties and Fox Sports College Properties.
The Skyview Networks distribution platform scales quickly and affordably, making the broadcast specialist equipped to handle the Trojans' network growth.  With 24/7 live customer support from Skyview Networks' Technical Operations Center and a state-of-the-art uplink facility, Fox Sports will have the ability to offer customer service qualities to its USC affiliates that are unmatched in the industry.  Additionally, the Skyview Networks receivers are built with the newest broadcast technology, including record and store features and copy-split insertion, allowing multiple versions of an advertisement to run across a network at the same time.
"I am thrilled to have the opportunity to partner again with the iconic collegiate rightsholder, Fox Sports," said Matt Stys, Vice President, Business Development. "Skyview Networks is known for delivering sports play-by-play to the hometown fan and the strong Trojan following across the US makes us the ideal partner for the USC growth initiative. This is an exciting time for USC play-by-play audio, and we are proud to be a part it."
The Trojans kick off the football season on August 31 and the men's basketball season on October 18, 2019.  USC football and men's basketball games can be heard on flagship station, KABC 790 AM. For further details regarding USC athletics, visit usctrojans.com.
To learn more about Skyview Networks' services, including audio network sales and broadcast technology packages, visit skyviewnetworks.com.
About FOX Sports College Properties
FOX Sports College Properties, a division of FOX-owned Home Team Sports, is a full-service sales and marketing organization representing some of the biggest brands in college athletics, including Auburn, Georgetown, Southern California, Villanova, and the BIG EAST Conference. The mission of FOX Sports College Properties is to create long-term strategic partnerships through customized, integrated marketing programs that deliver great value while addressing the needs and objectives of the athletic departments and corporate partners. Additionally, FOX Sports College Properties owns and operates the Continental Tire Las Vegas Invitational and the Continental Tire Las Vegas Classic college basketball tournaments.
About Skyview Networks
Skyview Networks is a broadcast technology and national network sales solutions company serving over 5,000 radio stations reaching 113 million listeners weekly.  Skyview Networks provides services to ABC Radio, CBS Audio, professional and collegiate sports organizations and two state news networks.  Founded in 1995, Skyview is based in Scottsdale, Arizona and focuses on providing best-in-class services that include satellite and IP distribution, full network automation, inventory management systems and network audio sales.  For more information, visit skyviewnetworks.com and follow @SkyviewNetworks.
###