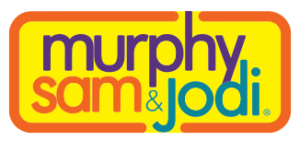 (September 13, 2023) –
Syndicated morning program,
Murphy, Sam and Jodi
, and its marketing representative Colbert Media Group, announced today the multi-year renewal of their network audio sales partnership with Skyview Networks. The program, which initially partnered with Skyview Networks in 2022 to further expand its network sales revenue, has continued to grow its affiliate footprint and can now be heard on over 70 radio stations across the US.
"Skyview's innovative approach to network operations and sales has changed the game for self-syndicated shows like ours," said hosts Murphy, Sam and Jodi. "There was no question that we would extend our partnership and we are excited to announce this renewal!"
Known for its witty banter and dynamic energy, Murphy, Sam and Jodi features a mix of discussion topics ranging from pop culture headlines to real-life scenarios amongst husband-and-wife duo, Murphy and Jodi, and their best friend, Sam. Together, the hosts resonate deeply with their audiences through their relatability, upbeat attitudes and genuine friendship.
Skyview Networks' President of Network Partnerships and Chief Revenue Officer, Jeanne-Marie Condo-Bucknell, commented, "The connections that Murphy, Sam and Jodi have built with their listeners are key for our agency partners. Their strong presence across multiple formats, including Hot AC, Country and CHR, combined with their unique on-air presence is a winning combination for advertisers."
Murphy, Sam and Jodi airs weekday and Saturday mornings and offers full customization opportunities for stations on-air and online. For program details, visit skyviewnetworks.com/msj/ and for affiliation information, contact [email protected].
About Murphy, Sam and Jodi
Murphy, Sam and Jodi ® is a daily morning show produced by Media 3 Entertainment, LLC. The trio has been a team since 1997 and began syndication in 2003. The show is represented by Colbert Media Group and airs on over 70 stations across the US on multiple adult targeted formats (Hot AC, Mainstream AC, Classic Hits, CHR and Country).
About Skyview Networks
Skyview Networks is an audio technology, syndication and network audio sales solutions company based in Scottsdale, Arizona that has been serving the broadcast space for nearly 30 years. With more than 10,000 radio affiliate relationships, its nationwide coverage reaches over half of all Americans each week. Skyview's industry-leading services are utilized by major media companies, leading consumer brands, world-class entertainers, professional and collegiate sports organizations, and state news networks. For more information, visit skyviewnetworks.com and follow @SkyviewNetworks. 
###