ABC's David Muir and CBS' Norah O'Donnell Addressed the Network Audio Community and a Private Concert by Chart-Topping Female Band, Runaway June, Capped the Event; Skyview Networks Announces New Digital Opportunities: GMA Host Ginger Zee's New Inside Frozen II Podcast and CBS Podcast Lineup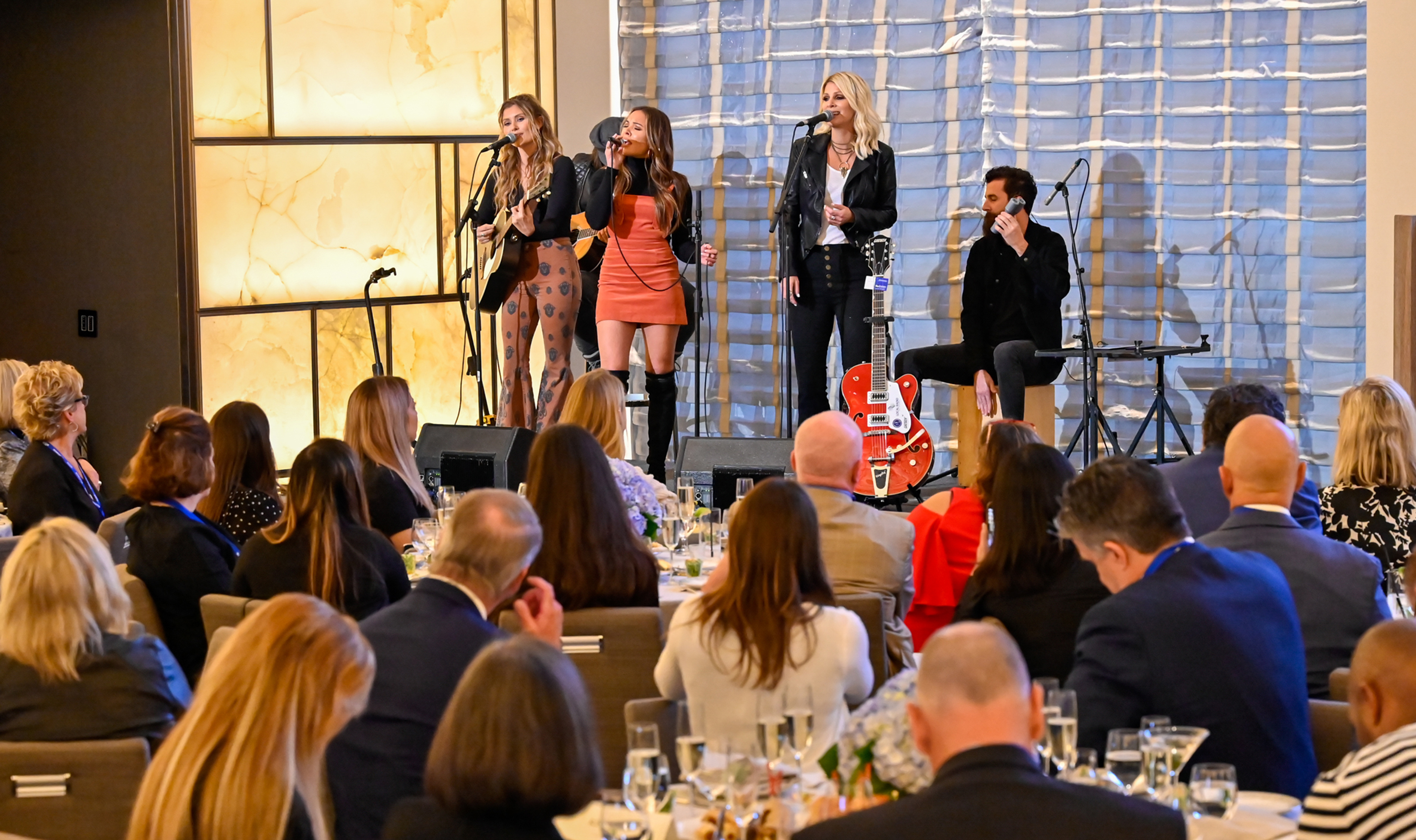 NEW YORK (October 4, 2019) –
Skyview Networks wrapped its fourth annual celebrity-loaded, audio upfront event, drawing influential agencies and media buyers from across the country at
The Onyx Room
in New York City.  With audio as the backdrop, Skyview Networks'
Experience Momentum 2020 Upfront,
featured some of the biggest names in media sharing how "access" and "storytelling" have deepened their connection and delivery to audiences across 5,700 plus affiliates.*  The event concluded with a private concert by Country music's superstar band,
Runaway June
, recently recognized as the highest charting female trio in sixteen years.
Skyview Networks' Executive Vice President and General Manager, Jeanne-Marie Condo was the host of the upfront celebration, taking Madison Avenue executives through new branded audio integrations for news, influencer, long-form, short-form, sports and music platforms.  Ken Thiele, Founder and CEO of Skyview Networks said, "I'm extremely proud of Jeanne-Marie, our entire sales organization, and all of our network partners that demonstrated their unique and powerful capabilities today.  The turnout from our longtime buyers and clients speaks volumes to the importance of this event and I am thrilled to showcase our growing momentum in the industry."
"This evening we were able to show the breadth of scale of our portfolio to the ad community and to our partners.  Our growing footprint in terrestrial and digital audio has enabled Skyview to carve out a unique niche in the industry," said Steve Jones, President and COO for Skyview.  "I couldn't be prouder of our upfront event, Experience Momentum.  It really embodies Skyview's successful trajectory as a leader in the network space."
Digital audio is a key initiative for Skyview Networks going into the upfront season and during Jones' presentation, he showcased the company's branded audio strategy and new 2020 opportunities in partnership with Amplfi Media and previewed new opportunities for 2020, including Inside Frozen II podcast hosted by Good Morning America's Ginger Zee.
CBS also shared exciting news for their digital audio that Skyview Networks will now represent the CBS Audio podcast portfolio, which includes dozens of titles including: 60 Minutes, CBS Evening News, My Life of Crime, Mobitaries with Mo Rocca.
ABC also presented Stephen Hubbard's All Access Pass with a performance by Country artists, Runaway June.
"Custom integrations powered by some of the biggest names in America has been our hallmark at Skyview.  The strength of what we bring advertisers connects them directly with listeners," said Condo.  "Must-have brands and household names, all accessed by our platforms."
Featured Network Correspondents and Celebrities:
ABC
Stacia Deshishku, Vice President/General Manager, ABC Audio; David Muir, anchor of ABC World News Tonight; Sara Haines and KeKe Palmer, co-hosts of GMA 3: Strahan, Sara & Keke, Ginger Zee, Chief Meteorologist ABC News, Dr. Jennifer Ashton, ABC's Chief Medical Correspondent and Déjà Vu, host of The Deja Vu Show; Don Maggi, creator of Front and Center and Speakeasy.
CBS
Craig Swagler, Vice President and General Manager, CBS Audio, Mo Rocca correspondent, CBS Sunday Morning, Jill Schlesinger, Business Analyst, CBS News; David Begnaud, lead national correspondent for CBS This Morning and anchor of CBS News Radio's Reporter's Notebook; Steven Portnoy, correspondent CBS News Radio; and Erin Moriarty, CBS News Correspondent (48 Hours); Jennifer Brown, news anchor.
Skyview Networks
Steve Jones, President & Chief Operating Officer; Ken Thiele, Chief Executive Officer; Jeanne-Marie Condo, Executive Vice President, General Manger; and Dana Cortez, DJ Automatic and Anthony A. of The Dana Cortez Show.
*Source: Nielsen
About Skyview Networks
Skyview Networks is a broadcast technology, syndication and national network sales solution company serving over 5,700 radio stations reaching 113 million listeners weekly.  Skyview Networks provides services to ABC Audio, CBS Audio, Local Radio Networks, Alpha Media USA, JackFM, The Dana Cortez Show, professional and collegiate sports organizations and two state news networks.  Founded in 1995, Skyview is based in Scottsdale, Arizona and focuses on providing best-in-class services that include satellite and IP distribution, full network automation, inventory management systems and network audio sales.  For more information, visit skyviewnetworks.com and follow @SkyviewNetworks.
###