Announcements of new network partners, syndicated programs and affiliate growth highlight new opportunities and strategies for ad community in the coming year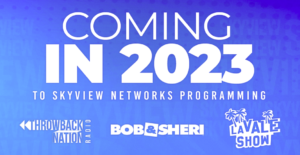 (September 21, 2022) – Skyview Networks, an industry leader in the audio space, presented the Power of Momentum at its fifth annual Upfront presentation for an audience of more than 400 advertising executives from top network and media agencies across the nation. Set on a virtual stage, Skyview's highly anticipated event featured some of the biggest names in entertainment, including iconic hosts Tim McGraw and Carly Pearce, as it mapped out the goals and strategies that lie ahead in the coming year.
Demonstrated through powerful messaging from Skyview's network and content partners, viewers had a firsthand look at the magnitude of Skyview's reach in the industry, which boasts over 10,000 affiliate relationships and the capability to build strong messaging through custom integrations, station lineups and demographics. Included in the partner portfolio for 2023 is the addition of Bonneville International for network audio sales, starting January 1, 2023. This portfolio growth will allow for continued maximization across the country, giving clients unrivaled possibilities.
Jeanne-Marie Condo, Skyview's President of Network Partnerships and Chief Revenue Officer, stated, "Power of Momentum is a driving force for Skyview – seeking every opportunity to go above and beyond for our ad partners and deliver for their brands. Our ingenuity combined with our exceptional content and advertising strategies are what define us as an industry leader. I'm thrilled for the opportunities that lie ahead to take our audience connections to new levels in 2023."
Skyview Networks showcased its dynamic portfolio of audio personalities that deliver significant listenership with key demos through its growing syndication and content platforms. Through a combination of authenticity, good humor, and relatability, the lineup of programs offers the ad community a robust package to connect their brands with audiences. Slated to join the roster of influential talent in the coming year are Bob Lacey and Sheri Lynch, hosts of award-winning show and podcast, Bob & Sheri; Angélica Vale, Latin American superstar and host of La Vale Show; and Throwback Brands' Tony Lorino and Danny Hustle, hosts of Throwback Nation Radio, Chris Cruise, host of Throwback 2K, and Joe Cortese, host of Retro Pop Reunion.
"I am thrilled about the continued expansion of our multicultural platform through the voices of our exceptional talent," added Rico Colindres, Vice President of Content Development and Syndication. "The new additions coming in 2023 will be tremendous building blocks for our portfolio, and it is a privilege to work with these creative minds in audio. You can have a great signal and play the hits, but authenticity and content are the key factors to creating syndication success."
With a foundation built on audio technology, Skyview Networks' partnerships with professional and collegiate sports teams and programming specialists provide a deep connection with listeners across the US. Guest appearances, including one by former MLB player, JJ Putz, touched on the significant footprint Skyview has on the industry, including affiliate relationships and sports betting powerhouses.
CEO and President of Skyview Networks, Steve Jones, commented, "Our focus is seeking out and implementing the most innovative and effective solutions that grow our business and serve our partners in a way that is unmatched in the industry. I am proud of the Upfront Show today that presented our partners with the continued evolution and success Skyview is achieving."
The Power of Momentum serves as a testament to the depth of audio and Skyview Networks is committed to driving that momentum through its continued evolution of network audio sales, content and technology.
About Skyview Networks
Skyview Networks is an audio technology, syndication and network audio sales solutions company based in Scottsdale, Arizona. With more than 10,000 radio affiliate relationships, its nationwide coverage reaches over half of all Americans each week. Skyview's industry-leading services are utilized by major media companies, leading consumer brands, world-class entertainers, professional and collegiate sports organizations, and state news networks. For more information, visit skyviewnetworks.com and follow @SkyviewNetworks.
###