Nick Cannon's nationally syndicated daily radio show wins key demographic in first affiliate market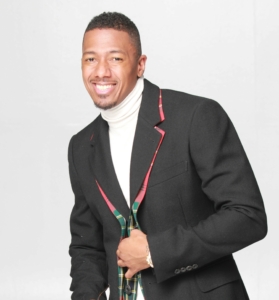 LOS ANGELES, Calif.
(May 21, 2020)–
In partnership with Meruelo Media and Skyview Networks, Nick Cannon's new nationally syndicated radio show,
Nick Cannon Radio
, sees major success with its key demographic in its first rating period.  B96.5 Louisville (WGZB-FM), the first station in America to launch Nick Cannon's syndicated daily show, recorded number one ratings with target audiences, W18-34* and A18-49*.
"Nick Cannon has quickly taken over Louisville with his unique humor, fun interviews with top celebrities and musicians, and effortless community engagement, including crowning our high school king and queen live on Instagram," said Armand "DJ Q" Flowers, Alpha Media Louisville's Content Director and Midday Talent.  "We were excited to be the first station to syndicate Nick in the mornings and the pay off in ratings and revenue has come much faster than we expected."
Nick Cannon was thrilled with the news, expressing his gratitude and appreciation for the Louisville listeners.  "Thank you, Louisville!  I love bringing you the facts with no fear and a whole lot of fun each morning during these crazy times!"
From flagship station Power 106 in Los Angeles, Nick Cannon creates a daily show that runs in all dayparts, interviewing hip-hop and Rhythmic-CHR artists in a format that allows affiliates to program music specific to their home market.  He also customizes segments and liners to ensure listeners in each market feel a special connection with him and recently rebranded his Twitter feed to Nick Cannon Radio to raise awareness among his 4.8M followers and promote listener engagement.
"We knew Nick Cannon Radio would succeed in mornings, middays or afternoons and he's now being programmed in all three dayparts by stations that want to win with one of America's most trusted and well-known entertainers," said Steve Jones, President and COO of Skyview Networks.
"We are thrilled about the advertising agency interest expressed in Nick Cannon," said Jeanne-Marie Condo, EVP and GM, Skyview Networks.  "As demographic targets move from A25-54 to A18-49, Nick Cannon has proven himself as an entertainment leader, positively impacting audiences and driving client results."
Nick Cannon's resume extends beyond radio, making him one of the most accomplished, creative, and versatile entertainers in America.  In addition to hosting Nick Cannon Radio, he is executive producer and host of the iconic comedy series "Wild 'N Out," host of America's most watched TV show "The Masked Singer," and this fall will host his own daily talk show seen in over 90% of the nation.  Nick is an influencer, whose connection with audiences makes him extremely attractive to advertisers and radio programmers alike.
Nick Cannon Radio can be heard in Los Angeles, CA; Portland, OR; Louisville, KY; Birmingham, AL; Buffalo, NY; Mobile, AL; Ocean City, MD; Amarillo, TX; Greenville, SC; and will be coming soon to new markets.  In addition to weekdays, Skyview Networks launched Cannon's Countdown, a three-hour weekend music show hosted by Nick Cannon for Rhythmic-CHR stations.
For affiliation information, email [email protected] and to hear scoped versions of Nick Cannon Radio, visit https://skyviewnetworks.com/nick-cannon-radio/.
*Source: Nielsen PPM
About Skyview Networks
Skyview Networks is a broadcast technology, syndication and national network sales solution company serving over 5,700 radio stations reaching 113 million listeners weekly.  Skyview Networks provides services to ABC Audio, CBS Audio, Local Radio Networks, Alpha Media USA, JackFM, The Dana Cortez Show, Nick Cannon Radio, Bob Kingsley's Country Top 40 with Fitz, VSiN sports betting network, professional and collegiate sports organizations and two state news networks.  Founded in 1995, Skyview Networks is based in Scottsdale, Arizona and focuses on providing best-in-class services that include satellite and IP distribution, full network automation, inventory management systems and network audio sales.  For more information, visit skyviewnetworks.com and follow @SkyviewNetworks.
About Meruelo Media
Meruelo Media, an affiliate of the Meruelo Group, is the largest and fastest growing minority-owned media company in California.  Meruelo Media operates Los Angeles television stations KWHY-TV, channel 22; and KBEH, channel 63; and Los Angeles market radio stations 95.5 KLOS; 105.9 KPWR "Power 106;" 93.5 KDAY; Riverside/San Bernardino station 93.5 KDEY-FM; and 93.9 KLLI "CALI 93.9".
###