Skyview Networks to provide network ad sales, affiliate sales and content distribution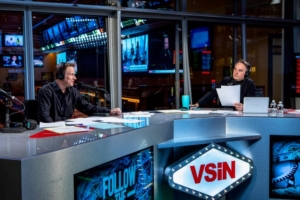 PHOENIX, Ariz. (April 23, 2020) –
Sports gambling's leading sports betting information network, VSiN, will partner with Skyview Networks, the audio industry's proven sports audio specialist, to further gain market share and sponsorship opportunities.  With 21 states recently legalizing sports betting and 21 more states with active legislation on the docket, the demand for sports betting programming and analysis is a fast-growing multi-billion dollar industry.*
"Skyview is in a strong position to partner with content creators as a full-service audio shop and is actively engaging in deals that bring exciting, high-demand content, like VSiN's programming and analysis, to the industry," said Ken Thiele, CEO of Skyview Networks.  Under this new agreement, Skyview Networks affiliate sales will expand VSiN's audience reach and grow VSiN's revenue through Skyview's network audio sales team.
"As sports betting expands across the country, VSiN has carved a unique position in the industry through its unmatched ability to deliver the insight and analysis this new and growing audience needs," said Brian Musburger, CEO of VSiN.  "VSiN has significantly expanded both its video and audio distribution over the past year, and as we continue to grow into one of the leading syndicators of sports content, we're excited to partner with Skyview Networks, whose understanding of the sports audience, ability to surgically target relevant audiences, and close ties with sports leagues will be integral to our future growth."
VSiN's original programming has become a new source of ratings and revenue for radio stations in states where sports betting is legal while providing first-to-market positioning in states soon to legalize sports betting.  VSiN offers an exciting and original alternative to the traditional Sports Talk format and to the 100 million adult Americans that either are current or potential future sports bettors.**  Sports betting analysis is emerging as a significant category in the audio industry, and one that Skyview Networks would like to grow with VSiN.
"Skyview is positioned to seize opportunity in this marketplace as we grow our portfolio to meet the content demands of stations, listeners and brands.  Sports gambling information is an exploding new format and we are proud to enter this important new entertainment category with the most credible and respected partner," said Steve Jones, President/COO of Skyview Networks.  "We believe that with VSiN's knowledgeable and entertaining hosts and rapidly growing fan base, we can grow the network nationwide and provide an emerging and credible platform for advertisers to reach engaged listeners with proven spending power."
Skyview Networks will serve as the exclusive sales partner for VSiN's 24/7 lineup, its SiriusXM channel (204), and its one-minute Action Updates.  "Skyview has always been the home of play-by-play sports, reaching the passionate, loyal hometown fan in every market across the country," commented Jeanne-Marie Condo, EVP/GM of Skyview Networks.  "We are pleased to now offer our advertisers this next tier of savvy, dedicated audiences in this significant and growing format with VSiN, the most sophisticated content creator in sports betting."
VSiN is the first multi-platform broadcasting company dedicated to delivering insight, analysis and proprietary data to millions of Americans who take part in the multi-billion-dollar sports betting industry.  Matt Stys, VP, Business Development for Skyview Networks added, "We are thrilled to be aligned with VSiN, which we consider to be the foremost provider of sports betting analysis and information, providing dedicated listeners access to trusted sources and deep data.  Skyview was founded in the sports broadcast segment as a full-service audio technology and sales company, so we are confident our expertise will support VSiN's growth objectives."
VSiN's 24/7 lineup of unique sports betting programming includes the network's hit morning show "Follow the Money," legendary sportscaster Brent Musburger's "My Guys in the Desert," the analytics driven "A Numbers Game," and "Lombardi Line," hosted by former NFL executive, Michael Lombardi.  Skyview Networks provides network sales, broadcast distribution, and technical and software solutions for broadcast distribution and management.  In this partnership, Skyview Networks will also manage affiliate relations.
Affiliates interested in airing VSiN's programming may contact [email protected].
For additional details on Skyview Networks' services, visit www.skyviewnetworks.com.
About VSiN
VSiN (Vegas Stats & Information Network), The Sports Betting Network, is the first sports media company dedicated to providing news, analysis and proprietary data to the millions of Americans who bet on sports and make gambling a multibillion-dollar industry.
Fueled by award-winning broadcasters and legendary oddsmakers, VSiN informs and entertains these consumers whenever and wherever they want.  Fans can access VSiN content through a dedicated SiriusXM Radio channel (204), Comcast, fuboTV, Sling TV, Cox, Rogers' Sportsnet, NESN, MSG Networks, Marquee Sports Network, TuneIn, VSiN.com, mobile and social.
VSiN's newsroom studio is located in the sports book at the South Point Hotel, Casino and Spa in Las Vegas.
About Skyview Networks
Skyview Networks is a broadcast technology, syndication and national network sales solution company serving over 5,700 radio stations reaching 113 million listeners weekly.  Skyview Networks provides services to ABC Audio, CBS Audio, Local Radio Networks, Alpha Media USA, JackFM, The Dana Cortez Show, Nick Cannon Radio, Bob Kingsley's Country Top 40 with Fitz, professional and collegiate sports organizations and two state news networks.  Founded in 1995, Skyview Networks is based in Scottsdale, Arizona and focuses on providing best-in-class services that include satellite and IP distribution, full network automation, inventory management systems and network audio sales.  For more information, visit skyviewnetworks.com and follow @SkyviewNetworks.
*Interactive Map: Sports Betting in the U.S. (2020, March 9). Retrieved March 9, 2020, from https://www.americangaming.org/research/state-gaming-map/
**Current and Future Sports Betting Behavior Post-PASPA. (2019, March 29). Retrieved March 9, 2020, from https://www.americangaming.org/resources/sports-betting-consumer-study/
###