Nick Cannon returns today to host his top-ranked nationally syndicated daily radio show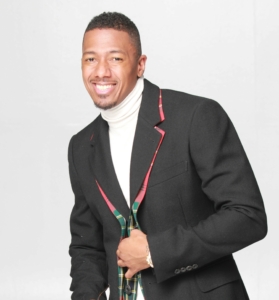 PHOENIX, Ariz. (September 8, 2020) – Nick Cannon announced today that he will resume hosting his #1-ranked nationally syndicated radio show, Nick Cannon Radio, effective immediately after taking time away for a period of reflection, dialogue and study with some of America's most notable Jewish community leaders and representatives. During his hiatus, Nick worked to deepen his understanding of the issues long troubling the Black and Jewish communities, and pledged from this point forward to be a leading voice and advocate for positive change, greater understanding and unity. 
"I'm extremely blessed and humbled, and have an incredibly meaningful opportunity to use my public platform to spread love, positivity and understanding," Nick Cannon said. "I've come away these past few weeks with a much broader perspective on the Jewish plight throughout history, some lifelong friendships, and a newfound purpose for uniting the Black and Jewish communities of all generations to combat the systemic racism and injustices that continue to plague our world today. My work has just begun, and I look forward to continuing my journey toward further enlightenment."
"I welcome Nick Cannon as a new friend," said Rabbi Noam E Marans. "We will learn from one another and open the window to go beyond that which originally brought us together, seizing this opportunity to expand the conversation to the two-way street of Black-Jewish relations."
Nick Cannon's radio affiliates have also voiced their support for the host. Armand DJ Q Flowers, Program Director of Alpha's B96.5, Louisville explained, "Nick Cannon has taken some valuable time to heal through thorough research and education. Louisville is proud to have him on the airwaves, using his voice and platform to seek justice and equality in this historic time of our country! He is an excellent example of perseverance, and his true goal is to unite us all."
"We are so appreciative of Nick Cannon's affiliates for their commitment to Nick during his period of reflection," said Steve Jones, President & COO of Skyview Networks. "We recognize that he is an incredible entertainer with a powerful voice that will continue to command the interest and attention of radio listeners during this volatile time in America."
Nick Cannon Radio airs Monday through Friday, available for broadcast in different dayparts, and showcases Nick's original comedy and entertaining interviews with leading voices in pop culture. Upcoming shows are slated to feature interviews with Kanye West, Common, Wacka Flocka and more. Nick hosts Cannon's Countdown as well, a three-hour weekend show featuring music, lifestyle and entertainment content on urban, rhythmic and hip-hop radio formats. Skyview Networks oversees production, affiliation and advertising sales.
Currently, Nick is in pre-production as host of Fox's The Masked Singer, set to premiere its fourth season on September 23, 2020.
Nick will also be returning as host of Nick Cannon Mornings on Power 106 LA. More details to be announced on a later date. 
For affiliation information, email [email protected], and to hear scoped versions of Nick Cannon Radio, visit skyviewnetworks.com/nick-cannon-radio.
*Source: Nielsen PPM
About Skyview Networks
Skyview Networks is a broadcast technology, syndication and national network sales solution company serving over 6,000 radio stations reaching 115 million listeners weekly.  Skyview Networks provides services to ABC Audio, CBS Audio Network, Local Radio Networks, Alpha Media USA, JackFM, The Dana Cortez Show, Nick Cannon Radio, Bob Kingsley's Country Top 40 with Fitz, The BetR Network featuring select VSiN content, professional and collegiate sports organizations and two state news networks. Founded in 1995, Skyview Networks is based in Scottsdale, Arizona and focuses on providing best-in-class services that include satellite and IP distribution, full network automation, inventory management systems and network audio sales.  For more information, visit skyviewnetworks.com and follow @SkyviewNetworks.
About Meruelo Media
Meruelo Media, an affiliate of the Meruelo Group, is the largest and fastest growing minority-owned media company in California.  Meruelo Media operates Los Angeles television stations KWHY-TV, channel 22; and KBEH, channel 63; and Los Angeles market radio stations 95.5 KLOS; 105.9 KPWR "Power 106;" 93.5 KDAY; Riverside/San Bernardino station 93.5 KDEY-FM; and 93.9 KLLI "CALI 93.9."
###