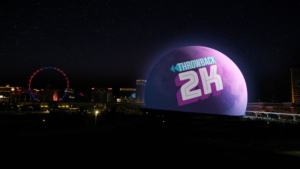 (August 10, 2023)
– Throwback 2K
, a weekend program from Throwback Brands known for its hits from the early 2000s, through its syndication partner, Skyview Networks, announced today the expansion of its affiliate network in advance of its one-of-a-kind Labor Day countdown special. Following the addition of KVGS-FM Las Vegas, NV to its affiliate roster,
Throwback 2K
is preparing to host "Top 200 of the 2Ks," a 200-song countdown for Labor Day weekend featuring the most popular songs from the 2000-2010 music era.
"Playing the biggest hits of the new millennium in Sin City on KVGS? That's SO fetch! Just remember, always bet on Throwback," said Chris Cruise, host of Throwback 2K.
Tony Lorino, Founder and CEO of Throwback Brands, added, "Chris keeps saying 'Fetch' is going to happen, just like Gretchen Wieners. Except when Chris says things are going to happen, he's right! Big thanks to Cat Thomas, Justin Chase, and the Beasley Las Vegas crew for welcoming us on board to the fetch-est station in Vegas."
With Cruise at the helm, "Top 200 of the 2Ks" will be the first ever nationally syndicated top 200 countdown focusing on songs from the early 2000s and will be available for 18 total hours. Stations can customize the special to air around their programming in three six-hour segments, two nine-hour segments or one 18-hour marathon.
"The dynamic energy that Throwback 2K delivers to listeners is a winning platform for our advertisers," commented Jeanne-Marie Condo-Bucknell, President of Network Partnerships and Chief Revenue Officer of Skyview Networks. "Audiences love the memory lane fun from the 2000s – it elevates connections and promotes a deep listenership that evolves into great client response."
Throwback 2K is a five-hour program and is available to run 6a-Midnight on Friday, Saturday or Sunday. For details and affiliation information, contact [email protected] or visit throwbacknationradio.com.
About Throwback Brands
Throwback Brands is an industry-leading content development company focused on helping terrestrial radio brands reach new heights through on-air, online, and promotional platforms.  With a focus on Classic Hits, REINVENTED, Throwback has rapidly expanded its offerings with one nightly show, Throwback Nation Radio, two weekly offerings, Throwback 2K with Chris Cruise and Retro Pop Reunion with Joe Cortese, and a 24-hour format now heard on Throwback 102.3, WYET-FM in South Bend, Indiana.  Since founding in 2018, Throwback Brands' content now airs on over 175 stations every week, reaching 45 out of 50 of the United States.
About Skyview Networks
Skyview Networks is an audio technology, syndication and network audio sales solutions company based in Scottsdale, Arizona that has been serving the broadcast space for nearly 30 years. With more than 10,000 radio affiliate relationships, its nationwide coverage reaches over half of all Americans each week. Skyview's industry-leading services are utilized by major media companies, leading consumer brands, world-class entertainers, professional and collegiate sports organizations, and state news networks. For more information, visit skyviewnetworks.com and follow @SkyviewNetworks. 
###